What is Xenoturbella?
Zoological Letters
2015
1:22
Received: 29 March 2015
Accepted: 26 May 2015
Published: 24 July 2015
Abstract
Xenoturbella is a strange marine worm that can be collected regularly only off the west coast of Sweden. Due to its simple morphology, which lacks a centralized nervous system, coelom, anus, or reproductive organs, its phylogenetic position has long remained obscure. Recent phylogenomic analyses suggest it forms a new phylum, Xenacoelomorpha, together with the Acoelomorpha, but the position of the phylum remains undecided, either as a deuterostome or an early branching bilaterian. Developmental stages exhibit many phylogenetically decisive characters in various animal species, but have remained a mystery for Xenoturbella until recently. Observations of its development showed it has direct development with a very short and simple swimming stage, and that it lacks a feeding larva. Asexual reproduction has never been reported. It has been suggested that Xenoturbella feeds specifically on bivalves, but it still remains unknown whether it feeds on sperm, eggs, larvae, juveniles, carcass, mucus, or feces of bivalves, and direct observations of Xenoturbella feeding on bivalves have not been reported. Endosymbiont bacteria have been found, and their functions are being investigated. The evolutionary scenario of this taxon remains the subject of debate, and our understanding will depend largely on determining its phylogeny. Thus, although recent studies have uncovered many new and crucial facts regarding Xenoturbella, some fundamental biological information, such as phylogeny, complete life cycle, and genome, remain unsolved. Further research on the well-studied Swedish Xenoturbella bocki, as well as the discovery of new species elsewhere, are necessary if we are to more fully understand the nature of Xenoturbella.
Keywords
Xenoturbella AcoelomorphaXenacoelomorphaDeuterostomeBilateriaMetazoaLarvaDevelopmentPhylogenyEvolution
Introduction
"Was ist Xenoturbella?"

Reisinger, E. Z. Wiss. Zool.: 164, 188–198 (1960) [1]
Xenoturbella
is an enigmatic marine worm with a very simple morphology (Fig.
1a
). Due to its simplicity, the animal's phylogenetic position has remained obscure since its first scientific report in 1949 [
2
]. In 1960, Dr. Reisinger even published a manuscript entitled 'Was ist
Xenoturbella
?' [
1
] (English translation: What is
Xenoturbella
?).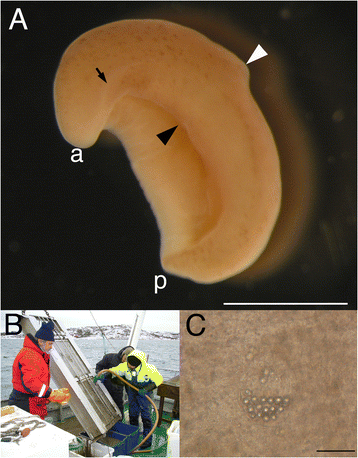 After recent molecular phylogenetic and phylogenomic analyses have shown that it may occupy an important phylogenetic position with respect to the evolution of deuterostomes and metazoans [3–5], Xenoturbella has attracted the interest of many biologists. However, since the animal can be collected regularly only off the west coast of Sweden (Fig. 1b) [6], studies of its development and ecology have been lagging. In this review, I will summarize the recent studies on Xenoturbella, and examine how close we are to answering Dr. Reisinger's pointed question.
Conclusions
So then, can we now answer the question, "What is Xenoturbella?" Even in 1960, when the paper with this as a title was published [1], Xenoturbella was known to be a marine invertebrate worm with a very simple body plan found off the west coast of Sweden. Although gametes had been reported, no larvae had been found. Almost nothing was known concerning its ecology.
More than 50 years later, it is now likely that Xenoturbella forms a new phylum, the 'Xenacoelomorpha,' together with the Acoelomorpha [5], but whether this new phylum belongs to the deuterostomes [5] or represents an early branching bilaterian [4] remains undetermined. Swimming stages during development have been reported [29], but its gastrulation has not been observed. Asexual reproduction is unlikely. It probably feeds on bivalves [22, 34, 35, 37], but the exact mode of feeding remains a mystery. Almost nothing is known concerning the functions of its two endosymbiotic bacteria [39, 40]. Thus, although a great deal of new scientific data has been reported for Xenoturbella, with the observation of developmental stages being a milestone, many questions have yet to be answered.
The main reason that so much important information remains unknown or unstudied is the difficulty in obtaining live specimens. The only population currently available for research is found from the Gullmarsfjord on the west coast of Sweden. To make matters more difficult, the population there is known to fluctuate from year to year, and there have been periods when no animals were collected for several years. Concerning developmental studies, obtaining mature adults at or prior to the winter breeding season is essential. However, during especially severe winters, Gullmarsfjord freezes and Xenoturbella collection cannot be performed for two to three months. One way to overcome this difficulty is to search for other Xenoturbella populations available for research. Gullmarsfjord is known for its biodiversity of animals that are usually found in much deeper seas, and this is the case more generally for other fjords [41–45]. Organisms that are typically found at depths of several hundred meters can be collected at around 100 meters in these fjords. If this is the case for Xenoturbella, the animal may inhabit the deep sea floor in other locations. Although scarce, there have been reports from the Norwegian coast, the North Sea, and the Adriatic Sea [33], and future deep-sea expeditions may discover new Xenoturbella species.
Why then do we have to study Xenoturbella? Xenoturbella is a zoological riddle that has puzzled biologists for over 60 years. Many mysteries, such as its phylogeny, complete development, and ecology remain. Studies on these subjects, together with research on its genome, gene regulatory networks, and neurology may uncover important clues for elucidating metazoan evolution. If it is in fact a deuterostome, it will be just the fourth extant deuterostome phylum, together with the hemichordates, echinoderms, and the chordates to which we humans belong, and studies on the animal may be useful for reconstructing the deuterostome ancestor.
Declarations
Acknowledgements
I am grateful to all the staff, past and present, at Sven Lovén Centre for Marine Sciences–Kristineberg, formerly known as Kristineberg Marine Research Station, for their help in Xenoturbella collections and scientific discussions. I also thank the following for their discussions and collaborations; S. Bourlat, A. Poustka, K. Lundin, P. Funch, T. Stach, A. Nakano, M. Åkerman, J. Nyengaard, P. Martinez, M. Elphick, A. Heyland, O. Israelsson, M. Obst, Y. Nakajima, L. Moroz, M. Telford, and M. Thorndyke. H.N. was supported by the Human Frontier Science Program Long-Term Fellowship, Swedish Research Council, JSPS Grant-in-Aid (Start-up: No. 22870003; Young Scientists (A): No. 26711022), and the Pre-Strategic Initiatives, University of Tsukuba.
Authors' Affiliations
(1)
Shimoda Marine Research Center, University of Tsukuba, Shizuoka, Japan
Copyright
© Nakano. 2015
This is an Open Access article distributed under the terms of the Creative Commons Attribution License (http://creativecommons.org/licenses/by/4.0), which permits unrestricted use, distribution, and reproduction in any medium, provided the original work is properly credited. The Creative Commons Public Domain Dedication waiver (http://creativecommons.org/publicdomain/zero/1.0/) applies to the data made available in this article, unless otherwise stated.