Research article

Open Access
X-ray diffraction pattern from the flight muscle of Toxorhynchites towadensis reveals the specific phylogenic position of mosquito among Diptera
Zoological Letters
2015
1:24
Received: 16 March 2015
Accepted: 20 July 2015
Published: 11 August 2015
Abstract
Introduction
The Diptera are a group of insects with only a single pair of wings (forewings), and are considered monophyletic (originating from a common ancestor). The flight muscle in Diptera has features not observed in other insects, such as the long Pro-Ala-rich peptide associated with tropomyosin, not with troponin-I as in other insects, and the formation of a superlattice by myosin filaments analogous to that in vertebrate skeletal muscle.
Results
Here we describe X-ray diffraction patterns from the flight muscle of a mosquito, Toxorhynchites towadensis (Culicidae), belonging to a primitive group of Diptera. The diffraction pattern indicates that myosin filaments in the flight muscle of this species do not form a superlattice. X-ray diffraction also shows meridional reflections that are not observed in other dipterans, but are present in the patterns from bumblebee (Hymenoptera) flight muscle.
Conclusion
These observations suggest that the superlattice structure evolved after the common ancestor of Diptera had diverged from other insects. The flight muscle of mosquito may retain primitive structural features that are shared by Hymenoptera.
Keywords
MosquitoInsect flight muscleSynchrotron radiationX-ray diffraction
Introduction
Mosquitos belong to the insect order Diptera, which is characterized by having only one pair of wings. Diptera is one of the orders of insects that possess asynchronous flight muscles (asynchronous IFM), capable of driving their wings at high frequencies not achievable by the repetition of ordinary contraction-relaxation cycles. The reported frequencies of wing beat of mosquitos range between 320 and 800 Hz [1–7]. These previous studies have shown that the buzzing sound produced in this frequency range is also utilized for male-female communication/species recognition.
Although asynchronous IFM is believed to have occurred many times independently in the course of insect evolution, Diptera is considered to be monophyletic [
8
]. The asynchronous IFM of dipterans is known to have features not observed in other insects. One is the flight muscle-specific tropomyosin, which has a long proline-alanine-rich sequence at its C-terminus [
9
–
11
]. This sequence is observed in the flight muscles of all winged insects, but it is associated with troponin-I in other orders [
9
]. A second characteristic feature is the superlattice arrangement of the thick filaments [
12
]. In this arrangement, the position of the crown of myosin heads is axially shifted by one third of the 14.5-nm basic repeat with respect to its neighboring thick filaments (Fig.
1
). This shift is not only inferred from X-ray diffraction, but is also confirmed by the analysis of electron micrographs (12). As a result, the thick filaments in a sarcomere form a lattice that has a larger unit cell size than that of a simple lattice in which all the thick filaments have the same axial position. Lattice structure is readily identified by recording X-ray diffraction patterns; in the case of the simple lattice, the intensity of the 1st myosin meridional reflection has a single peak on the meridian, whereas in the case of the superlattice, the intensity forms two peaks. This was first observed in
Drosophila
flight muscle [
12
], but was later confirmed in other species ([
13
] as well as in the present study).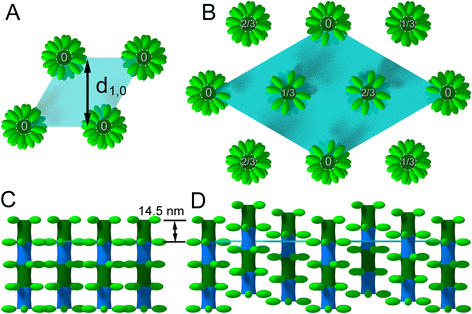 Mosquitos (Culicidae) are considered to be one of the most primitive groups of dipterans; it is thus of interest to know whether they also exhibit these features. However, their body sizes are generally small, and it is difficult to prepare flight muscle specimens suitable for recording high-quality X-ray diffraction patterns. Here, we describe the diffraction patterns from the IFM of the largest mosquito species in Japan, Toxorhynchites towadensis (elephant mosquito). The length of its dorsal longitudinal muscle fibers exceeds 2 mm, which makes it possible to use the mounting technique used for larger insects. The high-quality diffraction patterns recorded in this way revealed many features that are not observed in other (higher) dipteran species.
Materials and methods
Materials
Live mosquitoes (
Toxorhynchites towadensis
) were collected in a building close to the campus of the SPring-8 synchrotron facility in Harima, Japan (Fig.
2
). This species was readily identified by its size, bluish metallic body color, and curved proboscis. Its IFM was glycerinated in a 50 % mixture of glycerol and a relaxing solution with protease inhibitors, and stored at –20 °C, as previously described [
13
]. On the day before the experiment, the dorsal longitudinal muscle fibers were mounted to the specimen chamber by clamping both ends with half-split gold meshes for electron microscopy [
13
–
15
]. The composition of solutions (relaxing and rigor) was as described previously [
16
,
17
]. For comparison, flight muscles from other dipterans and bumblebee (
Bombus ignitus
) were also used; these were prepared in the same manner. These dipterans include
Phytomia zonata
(hover fly),
Promachus yesonicus
(robber fly),
Tipula coquilletti
(crane fly) and
Bibio
sp. (march fly), and all these specimens were collected in or near the campus of SPring-8.
X-ray diffraction recording
X-ray diffraction patterns were recorded at the BL45XU beamline of SPring-8 [18]. The specimen-to-detector distance was 2.4 m, and the X-ray wavelength was 0.1 nm. As a detector, a cooled CCD camera (C4880-50, Hamamatsu Photonics, Hamamatsu, Japan; 1000 × 1018 pixels, pixel size, 150 × 150 μm) was used in combination with an image intensifier (VP5445-MOD, Hamamatsu Photonics). Some of the patterns from bumblebee muscle fibers were recorded on Imaging Plates (Fuji Film Co., Tokyo, Japan) with a pixel size of 50 × 50 μm. The diffraction patterns recorded under the same experimental condition were summed to improve the signal-to-noise ratio, and the background scattering was subtracted by the method described previously [15, 19].
Results
In principle, layer line reflections that arise from the helical arrangement of objects have continuous intensity profiles. If the objects are arranged in a crystalline lattice, the layer lines have intensities only on the spots where the conditions of diffraction are met. This phenomenon is called lattice sampling.
These observations suggest that the structure of the IFM of this primitive dipteran has a higher crystalline order, and is more complex than that of higher dipterans in that it contains more periodically arranged components.
Discussion
In this study, X-ray diffraction patterns from the flight muscle of a mosquito (Toxorhynchites towadensis), one of the most primitive dipterans, were described and compared with those of higher dipterans. It has been shown that the patterns from the mosquito are distinct from those from higher dipterans in that they have reflections that are not found or weak in other dipterans (especially in meridional reflections), and most importantly, they lack a myosin filament superlattice structure.
Dipterans have traditionally been classified into two major groups, the more primitive Nematocera (slender-bodied dipterans with long antennae) and Brachycera (stout flies with short antennae). A recent extensive study of the phylogenetic relationship of dipterans based on morphological and genomic traits [25] places a few groups of former Nematocera, including Culicomorpha (mosquitoes and allies), Psychodomorpha (sand flies and allies) and Tipulomorpha (crane flies and allies) as truly primitive groups of dipterans, while placing Bibionomorpha (march flies and allies) as a sister group of Brachycera. In support of this, the present study has shown that the diffraction patterns from a march fly, Bibio have traits similar to those of Brachycera species, i.e., the superlattice structure of the thick filaments and simple meridional reflections (Fig. 4). However, the crane flies (Ctenacroscelis and Tipula) are found to have these traits, suggesting a closer relationship between Tipulomorpha and Brachycera. To establish that the lack of the superlattice structure and the more complex set of meridional reflections are the primitive traits of dipteran IFM, diffraction patterns should be taken from other primitive families, such as Chilonomidae (midges) and Psychodidae (moth flies); however, these do not include species large enough to guarantee high-quality diffraction patterns. Finally, it is desirable to record diffraction patterns from dipterans belonging to the most primitive Deuterophlebiidae, located at the very base of the dipteran diversification. Again, there is little hope of obtaining diffraction patterns from these, because only one very tiny species (body length, ~2 mm) is known from Japan and it is endangered. In any event, it is clear from the present study that the superlattice structure of the thick filaments is not a trait present in the common ancestor, but it evolved after diversion of dipterans from other groups on insects.
The origin of the unusual meridional reflections from the mosquito IFM, not indexable to the repeats of either actin or myosin filaments, is currently unknown. In bumblebee IFM, similar meridional reflections are observed, and they are resistant to the digestion of the thin filaments by gelsolin (an F-actin-severing protein), suggesting that they are of the thick-filament origin (Iwamoto, unpublished). Therefore, at least in bumblebee, these may represent the repeat of unknown thick-filament proteins. Gelsolin treatment of mosquito IFM fibers is expected to clarify whether their unusual reflections are also of the thick-filament origin. A candidate for such an unknown protein is flightin, a myosin-binding protein found in Drosophila [26] and its periodicity is unknown. However, the unusual meridional reflections are not found in Drosophila and other Brachycera species, so that it may follow the basic repeat of myosin (116 nm) or the contrast of density along the filament may be so low so that they do not contribute to intensities of meridional reflections. It is also unclear whether the loss of the unknown thick-filament protein(s) and the acquisition of the superlattice structure are coupled.
Conclusions
The architecture of the myofilament lattice in the flight muscle of the mosquito, Toxorhynchites towadensis (Culicidae), retains features observed in other insect orders but not in higher dipterans (simple myosin-filament lattice and structures that give unusual meridional reflections). Examination of the IFM structures of other primitive dipterans is expected to give more insights about the early molecular evolution of dipterans.
Abbreviations
CCD:

Charge-coupled device
IFM:

Insect flight muscle
Declarations
Acknowledgements
The author expresses thanks to Dr. N. Yagi (JASRI) for his fruitful discussion, and Dr. T. Hikima (RIKEN) for his help at the beamline. The experiments were performed under approval of the SPring-8 Proposal Review Committee (Proposal Nos. 2009A1469, 2012A1272, 2012B1256, 2013B1333 and 2014A1298). Supported by Grant-in-Aid for Scientific Research, The Ministry of Education, Culture, Sports, Science and Technology, Japan, No. 23612009 and 26440185.
Authors' Affiliations
(1)
Japan Synchrotron Radiation Research Institute, Sayo-gun, Japan
Copyright
© Iwamoto. 2015
This is an Open Access article distributed under the terms of the Creative Commons Attribution License (http://creativecommons.org/licenses/by/4.0), which permits unrestricted use, distribution, and reproduction in any medium, provided the original work is properly credited. The Creative Commons Public Domain Dedication waiver (http://creativecommons.org/publicdomain/zero/1.0/) applies to the data made available in this article, unless otherwise stated.