Research article
Open Access
On the sighted ancestry of blindness – exceptionally preserved eyes of Mesozoic polychelidan lobsters
Zoological Letters
2016
2:13
Received: 7 March 2016
Accepted: 7 July 2016
Published: 16 July 2016
Abstract
Background
Modern representatives of Polychelida (Polychelidae) are considered to be entirely blind and have largely reduced eyes, possibly as an adaptation to deep-sea environments. Fossil species of Polychelida, however, appear to have well-developed compound eyes preserved as anterior bulges with distinct sculpturation.
Methods
We documented the shapes and sizes of eyes and ommatidia based upon exceptionally preserved fossil polychelidans from Binton (Hettangian, United-Kingdom), Osteno (Sinemurian, Italy), Posidonia Shale (Toarcian, Germany), La Voulte-sur-Rhône (Callovian, France), and Solnhofen-type plattenkalks (Kimmeridgian-Tithonian, Germany). For purposes of comparison, sizes of the eyes of several other polychelidans without preserved ommatidia were documented. Sizes of ommatidia and eyes were statistically compared against carapace length, taxonomic group, and outcrop.
Results
Nine species possess eyes with square facets; Rosenfeldia oppeli (Woodward, 1866), however, displays hexagonal facets. The sizes of eyes and ommatidia are a function of carapace length. No significant differences were discerned between polychelidans from different outcrops; Eryonidae, however, have significantly smaller eyes than other groups.
Discussion
Fossil eyes bearing square facets are similar to the reflective superposition eyes found in many extant decapods. As such, they are the earliest example of superposition eyes. As reflective superposition is considered plesiomorphic for Reptantia, this optic type was probably retained in Polychelida. The two smallest specimens, a Palaeopentacheles roettenbacheri (Münster, 1839) and a Hellerocaris falloti (Van Straelen, 1923), are interpreted as juveniles. Both possess square-shaped facets, a typical post-larval feature. The eye morphology of these small specimens, which are far smaller than many extant eryoneicus larvae, suggests that Jurassic polychelidans did not develop via giant eryoneicus larvae. In contrast, another species we examined, Rosenfeldia oppeli (Woodward, 1866), did not possess square-shaped facets, but rather hexagonal ones, which suggests that this species did not possess reflective superposition eyes. The hexagonal facets may indicate either another type of superposition eye (refractive or parabolic superposition), or an apposition eye. As decapod larvae possess apposition eyes with hexagonal facets, it is most parsimonious to consider eyes of R. oppeli as apposition eyes evolved through paedomorphic heterochrony.
Conclusion
Polychelidan probably originally had reflective superposition. R. oppeli, however, probably gained apposition eyes through paedomorphosis.
Keywords
PolychelidaSolnhofenLa Voulte-sur-RhôneOstenoNusplingenPosidonia ShaleHeterochronyDeep-sea adaptationsSuperposition eyes
Background
Eyes in the fossil record
The study of eye structures in fossil arthropods has long been limited to that of highly calcified trilobites [1]. Due to their sturdy outer surface, eyes and interior structures, such as substructures of the lenses, are regularly preserved in trilobite fossils [2]. The investigation of exceptionally well-preserved eye structures in less heavily calcified arthropod taxa (e.g., crustaceans) has attracted a great deal of scientific attention in recent years. Although the preservation of such an apparently fragile organ would appear to be exceptional, the preservation of eye structures in sclerotized arthropods is not uncommon. The good preservation of some such fossil eyes has, in certain cases, even allowed the partial reconstruction of putative optical properties [3–6]. Such studies focused on functional aspects of eyes possessed by early representatives of different arthropod lineages to infer possible ancestral features, and thus to shed light on the early evolution of eye structures in sclerotized arthropods. These studies included eyes of presumably early chelicerates [7–11] which, however, have been alternatively interpreted as representatives of the lineage towards Euarthropoda [12, 13] (see also Haug et al. critical review [9]).
These early arthropods include a number of spectacular taxa, such as (1) Anomalocaris sp. from Emu Bay Shale [4] which is one of the arthropods with the highest known number of ommatidia in the compound eye, or (2) the early chelicerate Leanchoilia superlata Walcott, 1912 which initially was believed to have possessed two pairs of compound eyes [14], but later was suggested to have carried "just" one pair of bilobed compound eyes [10] (as do other species of Leanchoilia [15]). In addition, favorable incidents during fossilization of Early Cambrian biota not only led to the preservation of prominent epidermal sense organs (e.g., compound eyes, cuticular sensilla), but also yielded information on the anatomy, as was demonstrated most recently in the early sclerotized arthropod from Chengjiang Fuxianhuia protensa Hou, 1987, which displayed a tripartite brain and optic neuropil [16]. Further studies also included early representatives of the mandibulate lineage other than trilobites; i.e., softer (non-calcified) and smaller fossils of early representatives Crustacea sensu lato [17] discovered as uncompressed fossils. In these, the cuticle became impregnated by calcium phosphate, in a so-called Orsten-type preservation [18]. Among fossilized arthropods, trilobites and Orsten crustaceans share the advantage of being preserved extraordinarily well, retaining most of their original volume [18].
Besides these early derivatives of different evolutionary lineages, fossilized eye structures of representatives of extant groups have been described in Orsten-type preservation, for example the compound eyes of an ostracod [19], an achelate phyllosoma larva [3] and a possible maxillopod [17]. Eyes preserved uncompressed in three dimensions, i.e. in their original volume, are also reported in many arthropods from the La Voulte-sur-Rhône nodules, notably in thylacocephalans [20–24] and in glypheid lobsters [25].
A further source of exquisitely preserved fossils comes from the plattenkalks. Although the body volume of these fossils was not preserved entirely, as for instance in Orsten's or La Voulte's fossils, at least some specimens may show aspects of their original volume [26]), or even appear almost uncompressed [27]. Specimens with preserved eyes have been described from the famous Solnhofen-type plattenkalks of southern Germany (e.g. an isopod). Additional, although not very well-preserved examples of fossil eyes include those of benthesicymid shrimps [28] and of cirolanid isopods [29, 30] from the Late Cretaceous Sahel Alma Lagerstätte (Lebanon).
Eyes in polychelidan lobsters
Polychelidan lobsters are ascribed to Reptantia, a group comprising mostly benthic crustaceans with elongated pleon, such as spiny, slipper or squat lobsters, crayfishes, hermit crabs, and true crabs. Among Reptantia, Polychelida is probably the sister group to Eureptantia comprising all remaining groups of Reptantia [31]. The predominantly benthic polychelidans have retained some plesiomorphic characters from the ground pattern of natantian shrimps, such as the triangular telson. Polychelida is thus a key group for reconstructing character evolution in Reptantia, and Decapoda as a whole.
Adults of extant species of Polychelida are all thought to be blind and to inhabit deep-sea ecosystems [32]. Their larvae, however, may retain functional eyes [33] which may degenerate over the course of development. In adults, the eye stalks are still present (except in Willemoesia Grote, 1873), but the corneae are always reduced; despite this, live specimens of Polycheles typhlops Heller, 1862 still reacted to the intensity of light [34]. However, it is known that in the fossil record, many specimens of polychelidan lobsters possessing eyes are present. Even the oldest occurrence of fossil polychelidan, Coleia uzume [35] from Japan and Tetrachela raiblana [36] from Italy and Austria, both Carnian (Late Triassic), seem to have had developed eyes as, although the eyes themselves may not have been preserved, their carapace margins are incised by developed ocular incisions [35, 36]. Despite being documented fossilized eyes have not been sufficiently discussed in an evolutionary context [37–40]. Spence Bate [41] was the first to stress the occurrence of eyes in some fossil forms, and assumed their reduction in extant species. More recently, Schweigert & Dietl [42] illustrated an eye-bearing specimen of Palaeopolycheles longipes (Fraas, 1855) from the Nusplingen Plattenkalk and discussed its ommatidia. On the basis of the ommatidial facets of Paleopopolycheles longipes [24] as reported by Schweigert & Dietl [42], and its phylogenetic position, Ahyong [43] suggested that coleiids may have already shifted to deep water, in which case the stem polychelids may have also evolved in deep habitats.
Palaeoenvironments and associated faunas
Results
Eyes and ommatidia
All specimens examined possess anterior pairs of ball- or disk-shaped structures that strongly resemble stalked compound eyes of extant decapod taxa. On 14 specimens, these protuberances display either squared or hexagonal sculpturations. On the remaining specimens, the preservation is not as fine, and these fine sculpturations are not visible. The nature of sculpturations is slightly obscured by compression in flattened specimens. However, objects with fragmentary volume preservation, as for instance in specimens from La Voulte, can be confidently interpreted as fossilized compound eyes. Due to the specific preservation of these eyes, some being partly flattened, incomplete and/or not visible in their entirety, detailed descriptions are difficult. Ommatidia do usually not cover the entire surface. Therefore, the descriptions are used as a basis for simple geometric assumptions and generalizations about the entire eye. Measurements and estimations of the properties of these eye structures are summarized in Table 1, see also Table 2.
We find quite a variety of ommatidia sizes from 35–90 μm, their inferred number also varies considerably; depending on high or low estimation there are about 700–17.000 to 1500–34.000 ommatidia per eye.
Differences in eye sizes
Comparison between the diameter of the eye and carapace length shows that both values are linearly linked (Spearmann rho = 0.80;
P
-value < 10
−9
: Fig.
9
). This suggests, as expected, that larger specimens have larger eyes.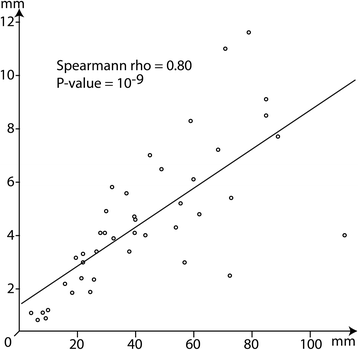 Difference in the proportion of the eyes (diameter of the eye = Eye Ø), relatively to the carapace length (CL) cannot be explained by variations in palaeoenvironments based on our data (Kruskal-Wallis χ
2
 = 6.95;
P
 = 0.43). However, phylogenetic variations may help to explain differences in eyes proportion (Kruskal-Wallis χ
2
 = 11.61;
P
 < 0.05). More precisely, representation of the distribution of values for different families (Fig.
10
) shows that: Coleiidae have in proportion larger eyes than Eryonidae and that fossil species more closely related to the modern species of Polychelidae than to fossil species attributed to other families;
Palaeopentachelidae have in proportion larger eyes than all other taxa (Note that this family is currently composed of a single species: Palaeopentacheles roettenbacheri);

Eryonidae, stem-Polychelidae and Rosenfeldia oppeli have eyes of similar proportions.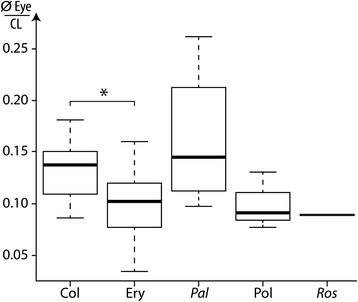 We compared statistically Eryonidae to Coleiidae (sample-size for other subgroups – here families – is insufficient). Eryonidae eyes are significantly smaller than those of Coleiidae (Welch test: Df = 30.8; P < 0.01).
Ommatidial size
Comparison between the square root of ommatidial surface and diameter of the eye shows that both values are linearly linked (Spearmann rho = 0.87;
P
 < 10
−4
: Fig.
11
). This implies that large eyes include larger ommatidia. Ommatidia of La Voulte species (Fig.
11
) are generally slightly larger than other, unfortunately, our sample-size doesn't allow for detailed comparisons between families or outcrops, so these differences cannot be distinguished from random variations. The small sample size and, as indicated above, variations in the preservation of ommatidia may also have obscured the palaeoenvironmental signal.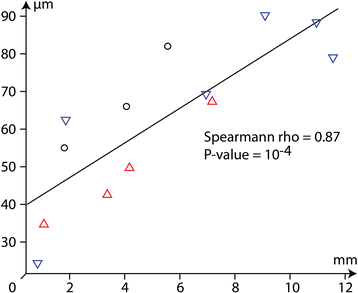 Conclusions
Reflective superposition eyes can be preserved in fossil arthropods.

Modern representatives of Polychelida are blind; Jurassic representatives still possessed functional eyes, most of them reflective superposition eyes retained from the ground pattern of Decapoda.

The examples presented here mark the oldest direct evidence for reflective superposition eyes and of clear superposition eyes in general.

The eye of R. oppeli could be an apposition eye that evolved through paedomorphic heterochrony. R. oppeli might have lived in shallower water than its relatives. Alternatively, it could correspond to a refractive or even a parabolic superposition eye.

Eyes proportions appear linked to phylogeny.
We hope that with the reinvestigation of other fossils we may complete these observations and obtain a clearer picture of how variations in eye design and size is distributed across taxa of polychelidans and if a variation between outcrops can be observed.
Abbreviations
CSMNF, Centro Musei delle Scienze Naturali e Fisiche of the Università degli Studi di Napoli "Federico II" (Napoli, Italy); FSL, Université Claude Bernard Lyon 1 (Villeurbanne, France); JME-SOS, Jura-Museum Eichstätt (Eichstätt, Germany); MNHN.F, Muséum national d'Histoire naturelle, collection de Paléontologie (Paris, France); MSNM, Museo Civico di Storia Naturale di Milano (Milano, Italy); NHMUK, Natural History Museum (London, United Kingdom); SMCU, Sedgwick Museum – Cambridge University (Cambridge, United Kingdom); SMNS, Staatliches Museum für Naturkunde (Stuttgart, Germany); SNSB-BSPG, Bayerische Staatssammlung für Paläontologie und Geologie (Munich, Germany); UJF-ID, Université Joseph Fourier, Institut Dolomieu (Grenoble, France); UPMC, Université Pierre et Marie Curie – Paris 6 (Paris, France)
Declarations
Acknowledgements
We are indebted to the curators Sergio Bravi (CSMNF, Napoli, Italy), Abel Prieur, Emmanuel Robert (FSL, Villeurbannes, France), Martina Kölbl-Ebert (JME, Eichstätt, Germany), Jean-Michel Pacaud (MNHN, Paris, France), Alessandro Garassino (MSNM, Milano, Italy), Claire Mellish (NHMUK, London, United-Kingdom), Matt Riley (SMCU, Cambridge, United-Kingdom), Martin Nose (SNSB-BSPG, Munich, Germany), Jean-Bernard Caron, Peter Fenton and Janet Waddington (ROM, Toronto, Canada), Fabienne Giraud-Guillot (UJF-ID, Grenoble, France), Isabelle Rouget (UPMC, Paris, France) for their work in the collections, without which this study would not have been possible. We also acknowledge the contribution of Philippe Loubry, who realized the SEM micrograph and Denis Poinsot (Université Rennes 1) who offered insightful advices on statistical analysis. JTH is currently kindly funded by the German Research Foundation (DFG; Ha 6300/3-1). CH is supported by a Bavarian Equal Opportunities Sponsorship at the LMU Munich. CH and JTH are kindly supported by J. Matthias Starck, Munich. We especially thank all private fossil collectors for their long-lasting support and all people involved in providing open source, open access or low cost software. We are glad to acknowledge the precious help of two anonymous referees: their detailed review significantly improved this article.
Funding
JTH is currently kindly funded by the German Research Foundation (DFG; Ha 6300/3-1). CH is supported by a Bavarian Equal Opportunities Sponsorship at the LMU Munich. CH and JTH are kindly supported by J. Matthias Starck, Munich. These funds allowed the documentation of German specimens and supported writing part of this article.
Availability of data and material
All data necessary to reproduce the results presented herein are presented in Tables 1, 2 and 3.
All specimens used in this study are available in public collections and their collection numbers, when available are provided in Tables 1, 2, and 3.
Authors' contributions
JTH and CH initiated the study, implemented the calculation of eyes parameter, provided data and imaged specimens from Germany. DA provided data for and imaged specimens from France, United-Kingdom and Italy and realized the statistical analyses. CHGM and SH provided background and interpretation of eye types evolution and their significance; GS and SC provided access and photographs of specimens housed respectively in Stuttgart and Paris as well as significant improvements to the manuscript. All authors read and approved the final manuscript.
Competing interests
The authors declare that they have no competing interests.
Open AccessThis article is distributed under the terms of the Creative Commons Attribution 4.0 International License (http://creativecommons.org/licenses/by/4.0/), which permits unrestricted use, distribution, and reproduction in any medium, provided you give appropriate credit to the original author(s) and the source, provide a link to the Creative Commons license, and indicate if changes were made. The Creative Commons Public Domain Dedication waiver (http://creativecommons.org/publicdomain/zero/1.0/) applies to the data made available in this article, unless otherwise stated.
Authors' Affiliations
(1)
Université de Rennes 1, Rennes Cedex, France
(2)
Centre de Recherche sur la Paléobiodiversité et les Paléoenvironnements (CR2P, UMR 7207), Muséum national d'Histoire naturelle, Sorbonne Universités, UPMC, CNRS, Paris, France
(3)
Department Biologie II und GeoBio-Center, Ludwig-Maximilians-Universität München, Biozentrum der LMU, Planegg-Martinsried, Germany
(4)
Staatliches Museum für Naturkunde Stuttgart, Stuttgart, Germany
(5)
Zoologisches Institut und Museum, Lehrstuhl Allgemeine und Systematische Zoologie, Ernst-Moritz-Arndt-Universität Greifswald, Greifswald, Germany
(6)
Zoologisches Institut und Museum, Lehrstuhl Cytologie und Evolutionsbiologie, Ernst-Moritz-Arndt-Universität Greifswald, Greifswald, Germany