Research article

Open Access
Pheromone gland development and monoterpenoid synthesis specific to oviparous females in the pea aphid
Zoological Letters
2018
4:9
Received: 14 November 2017
Accepted: 3 April 2018
Published: 11 May 2018
Abstract
Background
Aphids display "cyclic parthenogenesis," in which parthenogenetically and sexually reproducing morphs seasonally alternate in the aphid annual life cycles. There are various characteristics that differ between asexual viviparous and sexual oviparous females. In oviparous females, swollen cuticular structures (~ 10 μm in diameter), called "scent plaques," are scattered on the surface of hind tibias, and secrete monoterpenoid sex pheromones. However, the developmental processes of the pheromone glands and the biosynthetic pathways of monoterpenoid pheromones have yet to be elucidated.
Results
Comparisons of the developmental processes that form hind tibias between sexual and parthenogenetic females revealed that, in sexual females, the epithelial tissues in proximal parts of hind tibias become columnar in fourth instar nymphs, and circular pheromone glands with Class 1 gland cells appear in adults, although they do not appear in parthenogenetic females. Furthermore, by comparing the expression levels of genes involved in the mevalonate pathway, which is required for monoterpenoid synthesis, we show that genes that encode the downstream enzymes in the pathway are highly expressed in hind tibias of sexual females.
Conclusion
Glandular tissues of scent plaque are differentiated from the fourth instar in sexual females, while parthenogenetic females lack the glandular cells. Only the downstream steps of the mevalonate pathway appear to occur in scent plaques on hind tibias of sexual females, although the upstream steps may occur somewhere in other body parts.
Keywords
Epidermal glandHind tibiaMevalonate pathwayOviparous femaleReproductive polyphenismParthenogenesisPea aphidScent plaqueSex pheromone
Background
Most aphid species show cyclic parthenogenesis, in which both sexual and asexual reproduction are performed depending on season [
1
–
4
] (Fig.
1
). From spring to summer, aphids proliferate dramatically by viviparous parthenogenesis. In autumn, parthenogenetic females produce oviparous females and males in response to short photoperiods [
5
]. Oviparous females copulate with males and then lay diapausing eggs. The following spring, parthenogenetic females known as "fundatrices" or "stem mothers" hatch from the diapausing eggs. Cyclical parthenogenesis is a case of reproductive polyphenism; both asexual and sexual females occur from the same genetic background in response to different environmental conditions [
6
–
8
]. In aphids, sexual and asexual females have different characteristics that are adaptive to each respective reproductive mode and appear through two different developmental processes. Although sexual females cannot reproduce without mating with males, parthenogenetic (asexual) females can produce clonal offspring without males. It has thus been suggested that characteristics for mating behaviors, such as attraction of males, are unnecessary for parthenogenetic females.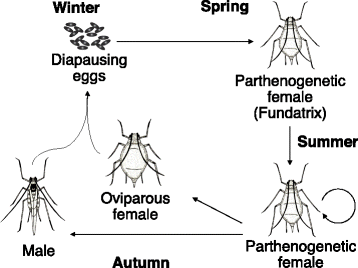 Sexual aphid females are known to secrete sex pheromones to attract males [9–12]. In many aphid species, including the pea aphid Acyrthosiphon pisum, two monoterpenoids, (4aS, 7S, 7aR)-nepetalactone and (1R, 4aS, 7S, 7aR)-nepetalactol, have been identified as sex pheromones [13–17]. The sex pheromones are thought to be secreted from circular bulge structures, called "scent plaques," scattered on their hind tibias, which was supported by the findings that oviparous females whose hind legs were mutilated attracted fewer males [9, 10, 18, 19]. Since scent plaques are the sex pheromone glands of aphids, the epithelial cells under the scent plaques should be differentiated into specific gland cells for secreting sex pheromones, although the detailed histological structures of gland cells and the developmental process remain unknown.
Generally, terpenoids can be synthesized by several biosynthetic pathways. The mevalonate pathway is the most well-known, and is essential to isoprenoid synthesis in eukaryotes, in which acetyl-CoA is converted to isopentenyl diphosphate (IPP) and dimethylallyl diphosphate (DMAPP) through several enzymatic reactions [20]. In some insects, monoterpenoid pheromones have been shown to be synthesized through the mevalonate pathway [21, 22]. We hypothesized that the mevalonate pathway is also utilized for sex pheromone synthesis in aphids.
In the present study, hind-tibia structure and development were compared between oviparous and parthenogenetic females, and detailed scent plaque structures were histologically observed to examine whether the scent plaque possesses characteristics of a pheromone gland. In addition, although the place of secretion is thought to be scent plaques, the places of reactions in the mevalonate pathway may not necessarily be scent plaques. In order to examine from which step of the mevalonate pathway was localized in hind tibias of oviparous aphids, expression levels of genes that encode enzymes in the mevalonate pathway were compared by realtime quantitative PCR (qPCR). Based on the KEGG pathway database (http://www.genome.jp/kegg/pathway.html), seven major enzymes were chosen: acetoacetyl-CoA thiolase (AACT), HMG-CoA (3-hydroxy-3-methylglutaryl-coenzyme A) synthetase (HMGS), HMG-CoA reductase (HMGR), mevalonate kinase (MevK), phosphomevalonate kinase (MevPK), mevalonate 5-diphosphate decarboxylase (MevPPD), and isopentenyl pyrophosphate isomerase (IPPI) [23–25]. In addition, farnesyl diphosphate synthetase (FPPS) was also included, as it converts the final products in the mevalonate pathway, i.e., IPP and DMAPP, into geranyl diphosphate (GPP), which is a monoterpenoid precursor, as shown in the bark beetle Ips pini [22, 24, 26].
Discussion
The present study describes the internal structures of the scent plaques associated with epidermal gland cells in the pea aphid. Epidermal gland cells are generally classified into three types, as follows: (1) Class 1 epidermal gland cells are monocellular and contact the glandular cuticle; (2) Class 2 epidermal gland cells do not contact the glandular cuticle, and transport secretory materials into adjacent Class 1 cells; and (3) Class 3 epidermal gland cells are multicellular, and consist of secretory cells and duct cells [37, 38]. In Class 1 epidermal glands, the glandular cuticle is often thin to facilitate transport of secretory molecules [37, 39]. In addition, enlarged pore canals, epicuticular filaments, and epicuticular pores are often formed in the glandular cuticle of Class 1 cells to facilitate diffusion of large molecules or retain secretory materials [37, 38, 40–42]. Based on these criteria, scent plaques in the pea aphid are suggested to be composed of glandular cuticle, and the epithelial cells under the scent plaques are classified as Class 1 gland cells, suggesting that sex pheromones are synthesized in the gland cells under the scent plaques. Thus, in the hind tibias of adult oviparous females, the sex pheromones are first transported and contained in invaginated tubular structures, and are secreted through the glandular cuticle (i.e., scent plaques) (Fig. 4f).
In general, the epidermis of adult insects is flattened, as adult insects generally do not synthesize new cuticles [38, 43]. Hind, fore, and mid tibias of adult parthenogenetic females have general adult features but the hind tibias lack scent plaques, which indicates that the epithelial cells in parthenogenetic females are incapable of secreting sex pheromones.
Monoterpene biosynthesis is essential for plants to synthesize defense oil and resin [26]. In animals, however, monoterpene biosynthesis was thought to be rare [21]. In contrast, recent studies revealed that several beetles (I. pini, Dendroctonus jeffreyi, Phaedon cochleariae, and Gastrophysa viridula) used the mevalonate pathway to synthesize monoterpenes [21, 44–49]. In addition, the FPPS protein in the peach-potato aphids, Myzus persicae, was reported to convert the final products of mevalonate pathway to GPP [50, 51]. Therefore, the qRT-PCR results (Fig. 5) indicated that the downstream enzymes (MevPK, MevPPD, and IPPI) and FPPS were responsible for monoterpene biosynthesis in oviparous females (Figs. 2–4), which is consistent with the fact that only oviparous females possess Class 1 gland cells on hind tibias. These results indicate that oviparous females synthesize monoterpenoid sex pheromones by up-regulating gene expression of downstream enzyme genes in the Class 1 epidermal gland cells of hind tibias. In contrast, the expression levels of all paralogous genes of AACT, HMGR, and MevK were not detected from hind tibias. However, the expression of AACT were detected in whole bodies of both morphs (Additional file 2: Figure S3). Based on these results, we suggest that the upstream substrates are also synthesized through the mevalonate pathway somewhere in the body, and the products (precursors of terpenoids) are transported to the gland cells of hind tibias to facilitate the downstream cascades of terpenoid synthesis.
As for gene expression in whole bodies, the expression levels of mevalonate-pathway genes were relatively high even in parthenogenetic females. This suggests that the pathway is also important for parthenogenetic females. For example, it is known that the mevalonate pathway is also crucial for juvenile hormone (JH) biosynthesis in insects, which suggests that expression levels in whole bodies may be caused by JH biosynthesis in the corpora allata. Juvenile hormone is reported to play important roles in the production of parthenogenetic females [52], and some JH-related genes are down-regulated under short-day length, when sexual females are produced [53]. Although these JH actions are only known to affect the next generations, JH should also be required for the postembryonic development (i.e., moultings) both in the parthenogenetic and sexual females, so that expressions of the mevalonate-pathway genes were detected in whole bodies.
Parthenogenesis is thought to have evolved in aphid life cycles about 200 million years ago [2, 54–57]. In addition, scent plaques are found in the most Aphididae species [9, 10, 58], and it was reported that two monoterpenoid components are used as sex pheromones in many aphid species [19, 59]. These suggest that hind tibias with scent plaques is an ancestral characteristic in Aphididae. Therefore, as the result of the evolution of parthenogenesis, the developmental mechanism that forms sex-pheromone glands is repressed in parthenogenetic females.
Conclusions
This study reveals that glandular tissues of scent plaque are differentiated from the fourth instar in sexual oviparous females, while parthenogenetic females lack the glandular cells. Furthermore, it was shown that the downstream steps of the mevalonate pathway are up-regulated in scent plaques on hind tibias of sexual females, although the upstream steps might occur somewhere in other body parts. In the aphid life cycle, oviparous sexual females only appear once a year, while parthenogenetic females occur throughout the rest of the annual life cycle [2–4]. Therefore, the adaptive switching mechanism that leads the development of sexual characters with functional metabolic pathways in response to environmental signals is suggested to have evolved, accompanying the evolution of cyclic parthenogenesis.
Declarations
Acknowledgements
We are grateful to D. Watanabe for his technical advice. We also thank T. Funatsu and T. Terada for their assistance in aphid stock maintenance.
Funding
This work was supported by a Grant-in-Aid for Scientific Research (A) (No. 25251041) to TM from the Ministry of Education, Culture, Sports, Science and Technology of Japan.
Availability of data and materials
The nucleotide sequence data used in this study can be found in the DDBJ/EMBL/GenBank database. The accession numbers are listed in Table 1.
Authors' contributions
KM and TM designed the study project; KM, KO and TK carried out the experiments. KM and TM interpreted the obtained data and wrote the manuscript. All the authors read and approved the final manuscript.
Ethics approval and consent to participate
Laboratory-maintained insects were used in all the experiments. Ethical approval and consent to participate were not required for this work.
Competing interests
The authors declare that they have no competing interests.
Publisher's Note
Springer Nature remains neutral with regard to jurisdictional claims in published maps and institutional affiliations.
Open AccessThis article is distributed under the terms of the Creative Commons Attribution 4.0 International License (http://creativecommons.org/licenses/by/4.0/), which permits unrestricted use, distribution, and reproduction in any medium, provided you give appropriate credit to the original author(s) and the source, provide a link to the Creative Commons license, and indicate if changes were made. The Creative Commons Public Domain Dedication waiver (http://creativecommons.org/publicdomain/zero/1.0/) applies to the data made available in this article, unless otherwise stated.
Authors' Affiliations
(1)
Laboratory of Ecological Genetics, Graduate School of Environmental Science, Hokkaido University, Sapporo, Japan
(2)
Laboratory of Functional Genomics, National Institute for Basic Biology, Okazaki, Japan
(3)
Bamfield Marine Science Centre, Bamfield, Canada
(4)
Misaki Marine Biological Station, School of Science, The University of Tokyo, Miura, Japan