Research article
Open Access
DNA metabarcoding of spiders, insects, and springtails for exploring potential linkage between above- and below-ground food webs
Zoological Letters
2018
4:4
Received: 18 October 2017
Accepted: 6 February 2018
Published: 15 February 2018
Abstract
Background
Understanding feedback between above- and below-ground processes of biological communities is a key to the effective management of natural and agricultural ecosystems. However, as above- and below-ground food webs are often studied separately, our knowledge of material flow and community dynamics in terrestrial ecosystems remains limited.
Results
We developed a high-throughput sequencing method for examining how spiders link above- and below-ground food webs as generalist predators. To overcome problems related to DNA-barcoding-based analyses of arthropod–arthropod interactions, we designed spider-specific blocking primers and Hexapoda-specific primers for the selective PCR amplification of Hexapoda prey sequences from spider samples. By applying the new DNA metabarcoding framework to spider samples collected in a temperate secondary forest in Japan, we explored the structure of a food web involving 15 spider species and various taxonomic groups of Hexapoda prey. These results support the hypothesis that multiple spider species in a community can prey on both above- and below-ground prey species, potentially coupling above- and below-ground food-web dynamics.
Conclusions
The PCR primers and metabarcoding pipeline described in this study are expected to accelerate nuclear marker-based analyses of food webs, illuminating poorly understood trophic interactions in ecosystems.
Keywords
Above- and below-ground linkageCollembola (springtails)DNA barcodingEcological communitiesFood websIllumina sequencingInsectsNetworksMolecular gut content analysesPredator–prey interactions
Background
Above- and below-ground biological communities are tightly linked with each other, collectively driving terrestrial ecosystem dynamics [1–3]. The above-ground parts of plants photosynthesize carbohydrates, of which 20% are directly supplied to below-ground mycorrhizal fungi in exchange for soil nutrients [4, 5]. The vast majority of carbohydrates then flow into soil food webs by being consumed by fungivorous invertebrates [e.g., springtails (Collembola)] [6, 7], which are subsequently preyed on by various groups of arthropod predators [8, 9]. As some groups of predators sustained by below-ground biomass also eat above-ground prey [10–12], the presence of such generalist predators has been expected to stabilize above-ground food webs through the regulation of population dynamics of herbivorous insects in natural and agricultural ecosystems [13, 14]. Although these insights highlight the importance of ecosystem services provided by generalist predators linking above- and below-ground communities, we are just starting to understand the structure of food webs linking both below- and above-ground invertebrates.
Spiders (Araneae) are among the most important groups of generalist predators potentially connecting above- and below-ground food webs [14, 15]. Spiders are known as major generalist predators stabilizing community dynamics of herbivorous insects, working as top-down regulators of above-ground food webs through trophic cascades [16]. As the body size and/or population size of spiders is limited by the amount of available prey biomass [11, 17], resource subsidies from below-ground food webs have been expected to strengthen the top-down regulation of above-ground food webs by spiders. In fact, pioneering studies have shown that springtails (Collembola) could be major "alternative prey" of web-weaving and wandering spiders, potentially sustaining populations of those spiders [8, 9, 11, 13, 18]. However, the number of spider species analyzed in these previous studies was low presumably due to difficulty in identifying many small spiders.
DNA barcoding techniques, which allow detection of prey DNA from predator samples, have recently been applied to studies of various types of predator–prey and parasite–host interactions [19–22], revolutionizing our understanding of species-rich food webs. Prey profile data based on high-throughput sequencing (e.g., 454, Illumina, and Ion-Torrent sequencing) have come to reveal poorly explored trophic interactions in the wild, providing novel insights into trophic interactions [23–26]. High-throughput sequencing analyses of spider diets have also indicated that spiders prey on both above- and below-ground arthropods [27, 28]. However, each of these studies focused on prey compositions of a single spider species. Thus, it remains a major challenge to identify diet composition of a spider community to determine above- and below-ground linkages. Once a high-throughput research workflow for investigating prey of multiple spider species is established, we will be able to discuss how spider communities drive terrestrial ecosystem processes in light of niche partitioning within spider functional guilds [29, 30].
In this study, we explored the structure of a food web involving multiple spider species and their Hexapoda prey by developing a new DNA metabarcoding approach. We first designed universal primers targeting broad taxonomic ranges of Hexapoda but not spiders, enabling the preferential amplification of degraded prey DNA from spider gut contents. We also developed blocking primers for further reducing off-target amplification of spider sequences and compared the performance of PCR protocols with/without the blocking primers. Based on Illumina sequencing of various families of web-weaving and non-web-weaving spider species collected in a temperate secondary forest in Japan, we examined whether multiple spider species in the community linked above- and below-ground food webs. Overall, this study shows a high-throughput pipeline for empirically characterizing prey communities consumed by spiders, providing opportunities for enhancing our understanding of how above- and below-ground food-web dynamics are coupled by generalist predators.
Results
Effects of blocking primers
Sequencing data were obtained from 210 individuals representing 26 spider species (Additional file
3
). In all the four PCR settings, the majority of the sequencing reads obtained represented Araneae (Table
2
). The percentage of Hexapoda reads compared to total arthropod reads were 1.08, 1.46, 0.65, and 0.90 for the blocking primer A, blocking primer B, blocking primers A & B, and no blocking primer settings, respectively (Table
2
). The percentage of samples with Hexapoda reads also varied among the PCR settings, ranging from 9.2% (no blocking primer) to 15.0% (blocking primer A). At the maximum, six Hexapoda OTUs were detected from a sample (Additional file
8
a-d). On average, 3428–3985 Araneae reads and 258–445 Hexapoda reads were obtained from each sample depending on the PCR settings (Table
2
). The number of Araneae OTUs obtained per sample varied considerably among spider species (Additional files
8
e-h and
9
), suggesting interspecific variation in the number of rRNA tandem repeats and/or the level of intragenomic ITS variation. When data from all four PCR settings were combined, the percentage of Hexapoda-positive samples was 27.6% (58/210; Table
2
; Fig.
2
).
Table 2
Summary of Illumina sequencing. Results based on the four PCR (blocking primer) settings are separately shown
| Experiment | No. of Samples with reads | No. of Samples with Hexapoda reads | Samples with Hexapoda reads (%) | Mean no. reads per sample (Hexapoda) | Mean no. reads per sample (Araneae) | Total no. of reads (Hexapoda) | Total no. of reads (Araneae) | Percentage of Hexapoda reads (%) |
| --- | --- | --- | --- | --- | --- | --- | --- | --- |
| Blocking primer A | 200 | 30 | 15.0 | 271 | 3754 | 8130 | 750,862 | 1.08 |
| Blocking primer B | 204 | 25 | 12.3 | 445 | 3720 | 11,113 | 758,851 | 1.46 |
| Blocking primers A & B | 189 | 19 | 10.1 | 258 | 3985 | 4909 | 753,181 | 0.65 |
| No blocking primers | 207 | 19 | 9.2 | 335 | 3428 | 6363 | 709,647 | 0.90 |
| Total | 210 | 58 | 27.6 | – | – | 30,515 | 2,972,541 | 1.03 |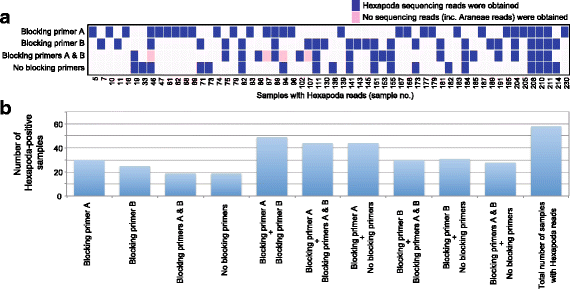 Community composition of detected Hexapoda
The high-throughput sequencing data revealed reads assigned to Collembola and six insect orders (Coleoptera, Diptera, Hemiptera, Hymenoptera, Lepidoptera, and Thysanoptera) (Fig.
3
; Additional file
6
). Although we expected the Hexapoda-specific primer to mismatch sequences of Lepidoptera [and a group of Hemiptera (Sternorrhyncha)], a Lepidoptera OTU was detected in three of the four PCR settings (Fig.
3
). The Hemiptera OTU observed represented Auchenorrhyncha, but not Sternorrhyncha (Additional file
6
). The composition of Hexapoda taxa varied slightly across the four PCR settings. The number of Hexapoda OTUs observed was the highest in the blocking primer A condition (Fig.
3
).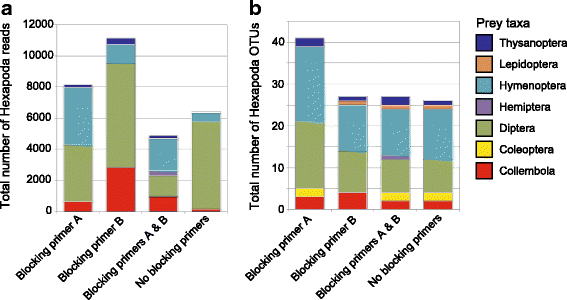 Araneae–Hexapoda food web
By combining all the Araneae–Hexapoda associations revealed in this study (Additional file
10
), a network involving 15 spider species and 50 insect/springtail OTUs was obtained (Fig.
4
); note that intragenomic variation of ITS sequences might, in general, result in the overestimation of taxa or species. The network suggests that three spider species (
Tetragnatha squamata
,
Phintella abnormis
, and
Platnickina sterninotata
) at the study site prey upon both insects and springtails. Even a species whose prey is thought to consist primarily of spiders (
P. sterninotata
) [
50
] potentially preyed on springtails, Hymenoptera, and Diptera species. Many other spider species were inferred to prey upon various above-ground insects, partly sharing prey taxa. In the network, there were Hymenoptera OTUs belonging to families consisting mainly of parasitoids (Braconidae, Pteromalidae, Encyrtidae, Eulophidae, and Ichneumonidae) and the family of gall wasps (Cynipidae) (Fig.
4
: Additional file
6
).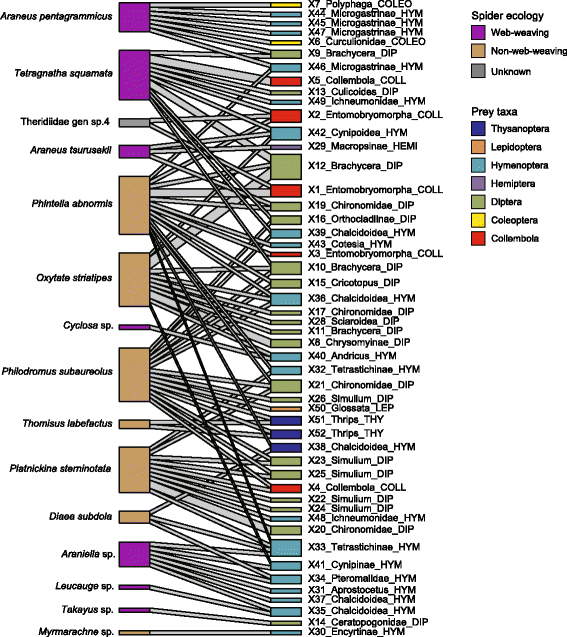 Discussion
The results implied that multiple spider species in a temperate forest preyed not only on insects but also on springtails. Thus, while pioneering studies have focused on the diets of a single or a few spider species [8, 9, 11, 13, 18], this study provided a novel platform for evaluating how spider communities as a whole drive ecosystem-scale processes. Our DNA metabarcoding data also suggested that spiders eat diverse taxonomic groups of insects, potentially having impacts on populations of various prey species in food webs [51]. Meanwhile, prey taxonomic compositions varied, to some extent, among spider species in the secondary forest (Fig. 4), although the number of samples per species needs to be increased in future studies to perform statistical tests of niche (prey) overlap.
The results also suggested that spiders interact with multiple trophic levels of Hexapoda species in food webs. Specifically, the network revealed in this study (Fig. 4) involved not only herbivorous and fungivorous (or detritivorous) lineages of Hexapoda but also parasitoids in the order Hymenoptera. Among the parasitic Hymenoptera families detected from the spider samples, only Ichneumonidae includes well-characterized species known to parasitize on spiders [52, 53], while others (Braconidae, Pteromalidae, Encyrtidae, and Eulophidae) consist mainly of parasitoids on insects or species with unknown life histories [54, 55]. Because our spider samples did not seem to carry eggs/larvae/pupae of spider-specific Ichneumonidae wasps, which are easily recognizable ectoparasites [52, 53], most parasitoid hymenopterans detected in this study may be prey of the examined spider samples. However, a DNA metabarcoding analysis alone does not indicate whether such parasitoids are directly preyed on by spiders or they were just parasitizing on Hexapoda hosts caught by spiders. In either case, interactions between spiders and parasitoid wasps are of particular interest, as predation/parasitism within a trophic level has been considered as a strong determinant of food-web dynamics [56–59]. Moreover, existing DNA barcoding methods, including ours, are not designed to distinguish between signs of cannibalism, intra-guild predation, scavenging, and secondary predation (i.e., DNA of prey's prey). In addition, with the present DNA-metabarcoding protocol, we may occasionally detect arthropod DNA contaminated in the environment. Further methodological improvements such as individual-level genotyping (e.g., single nucleotide polymorphism) for intra-guild predation analyses and sodium-hypochlorite bleaching for degrading non-prey DNA on predator sample surfaces will allow more comprehensive research of food-web structure.
Although supporting evidences based on direct field observations of predation events are important for correctly evaluating trophic interactions, DNA metabarcoding-based analyses are expected to provide insights into the underappreciated structure of food webs [20, 48, 60]. For example, our data suggest trophic interactions between insects and P. sterninotata, which had been recognized as spider-eating species. Although the present DNA-based analysis might have detected insects preyed on by spider prey of P. sterninotata (i.e., secondary predation), DNA metabarcoding studies potentially help identify signs of novel trophic interactions in the wild (sensu [20]). In addition, DNA metabarcoding is a powerful tool for systematically investigating prey compositions of a whole spider community because many spider species are nocturnal [61–63], making their predation behavior—especially that of small-sized species—difficult to observe directly in the field,.
The high-throughput sequencing technology outlined in this study is expected to accelerate studies examining how spiders play key ecosystem roles at the interface of above- and below-ground biological communities. Using the protocol described in this study, molecular experimental procedures from DNA extraction to sequencing-library preparation could be completed in a few days, even with hundreds of spider samples. Illumina MiSeq sequencing and bioinformatics procedures also take only a few additional days. Therefore, the molecular experimental and bioinformatics pipeline allowing fast profiling of predator–prey interactions is expected to provide an avenue for understanding temporal dynamics of food webs and their ecosystem-level consequences [64]. In particular, we will be able to examine how phenological switching between above- and below-ground prey by spiders can promote/inhibit the coexistence of species at the lower trophic levels [65]. The "early season predation" hypothesis predicts that the high biomass of overwintering adult/juvenile spiders is sustained by alternative prey, such as detritivores, in early spring and that the resultant initial asymmetry in predator and above-ground insect biomass (spiders > insects) can restrict outbreaks of herbivores in the successive foliation season [66]. Understanding of this phenological mechanism of predator–prey interactions, therefore, is invaluable from the aspect of insect pest controls in the restoration of natural ecosystems and the management of farmlands [15, 67]. By applying the high-throughput methods described herein to time-series sample sets, the early season predation hypothesis can be tested.
To enable a more comprehensive understanding of linkages between above- and below-ground food webs, the protocol proposed in this study needs further optimization and improvements. The comparative analysis of four PCR settings (Fig. 2 and Additional file 10) suggested that the use of blocking primers increased the number of the spider–Hexapoda associations detected, while prey information was available to some extent even without blocking primers as suggested in a previous study [27]. We also found that the four PCR settings varied slightly in observed prey taxonomic compositions (Fig. 3; Additional file 10). To avoid the loss of information, it may be important to combine results based on at least two PCR settings; combining the results of the blocking primer A and B settings (but not the simultaneous use of the two primers) may be the most informative (Fig. 2b). Alternatively, we may be able to improve the binding efficiency of the blocking primers by synthesizing them as peptide nucleic acid (PNA) [26]. Meanwhile, given that Hexapoda sequences were not obtained from many of our samples (Table 2), improvements in DNA extraction or PCR protocols may further enhance prey information. Enrichment of fragmented prey DNA in template DNA solution, for example, has been reported to increase prey DNA detection rates [28] (see also [68]). In addition, by increasing the concentration of blocking primers in PCR reaction mixtures, more selective amplification of Hexapoda sequences over spider sequences may result in more enriched prey detection.
In this study, we developed a DNA barcoding method targeting the nuclear ITS2 region in order to overcome the previously indicated shortcomings of the use of the mitochondrial COI region [32, 33]. Most importantly, due to the lack of highly conserved regions within the COI region, COI primers that have been commonly used in DNA barcoding studies [69–71] often mismatch the template DNA of arthropods, introducing taxonomic bias into amplicon libraries [32, 33]. In contrast, nucleotide sequences of the rRNA genes flanking the ITS2 region are highly conserved (Fig. 1), drastically reducing mismatches between primers and template genomic DNA and thereby increasing taxonomic coverage. Moreover, as the rRNA regions do not encode proteins, we could use insertion/deletion sites for developing taxon-specific (Araneae-specific) blocking primers (Fig. 1; Table 1). Despite the benefits of using the ITS2 region, the number of ITS sequences has been much smaller than that of COI sequences in public databases. As a result, most prey species in the inferred food web were unidentified even at the genus or family level, making it difficult to confirm that the detected Collembola sequences derived from below-ground fungivore/detritivore taxa or springtail species inhabiting canopies or living-tree bark. The paucity of ITS sequences in public databases reflects the history of DNA barcoding: during the era of Sanger sequencing, organelle (i.e., haploid) markers including mitochondrial COI had advantage over nuclear markers because the latter required elaborate cloning processes to obtain clear electropherograms (see [72] for additional merits of COI as a marker). This situation is changing rapidly as a single run of a next-generation sequencer now enables the generation of nuclear marker databases of hundreds or thousands of samples [48]. Indeed, an increasing number of researchers use the ITS regions for the DNA barcoding of not only fungi [73] but also animals [34] and plants [74], enhancing public ITS sequence databases. Developing ITS sequence databases of model local communities is also encouraged in order to understand how diverse arthropod guilds structure food webs.
Despite the use of Hexapoda-specific primers and Araneae-specific blocking primers, the majority of sequencing reads obtained represented spiders rather than their Hexapoda prey (Table 2). While further methodological improvements will increase the proportion of prey reads as discussed above, spider reads per se may provide important information. For example, given that juveniles of small spider species are often indistinguishable, DNA barcoding information can help identification of not only prey but also predators. When we use the ITS2 region for DNA barcoding, however, we need to take into account potential intragenomic sequence variation of the region [34, 75]. Our data suggested that most spider species analyzed in this study had two or more intragenomic ITS2 variants (Additional files 8 2e–h and 9). Such intragenomic variation can promote, rather than prevent, the use of the ITS2 region for molecular taxonomic identification. In theory, two or more sequence variants per species need to be deposited to public databases for reliable taxonomic assignment of a query sequence at the species level [42]. Therefore, database construction of organelle markers essentially requires two or more reference samples per species, while the number of reference samples can be reduced in DNA barcoding based on the ITS regions in the presence of intragenomic variation. The fact that nuclear markers are almost free from misidentification due to past introgressive hybridization [76] is another reason for promoting nuclear-marker-based DNA barcoding. We hope the primers developed in this study (Table 1) help accelerate ITS-based DNA barcoding, whose benefits have remained underappreciated in taxonomic and ecological studies of arthropods.
Conclusions
In the present study, we developed a DNA metabarcoding method for analyzing food webs involving both below-ground and above-ground arthropods. The results support the working hypothesis that multiple spider species in the study community prey on both below- and above-ground prey. This study also suggests that parasitoid wasps are important components of the diets of spiders, illuminating the structure of an arthropod food web involving various trophic levels. Although COI markers have huge merits in terms of the richness of reference database information, further improvements in ITS-marker-based protocols (e.g., use of PNA blocking primers) will provide prospective technical options for testing hypotheses on the coupling of above- and below-ground ecosystem processes. More case studies are needed to better understand how springtails and other below-ground fungivores and detritivores [23] [e.g., mites (Acari) and fungus gnats (Sciaridae)] are involved in the entire food webs of terrestrial ecosystems.
Declarations
Acknowledgements
We thank Atsushi Ushimaru and Kensuke Nakata for advice on spider natural history, and Kaoru Maeto, Keizo Takasuka, and Tatsumi Suguro for advice on parasitoid wasps on spiders. We are also grateful to two anonymous reviewers, whose comments improved the manuscript.
Funding
This work was financially supported by JSPS KAKENHI Grant (Nos. 26650144) and JST PRESTO (JPMJPR16Q6) to H.T.
Availability of data and materials
The DNA sequencing data are available through DNA DataBank of Japan (DDBJ) (BioProject: no. PRJDB5193). The downstream community ecological data, OTU information, and UNIX commands used in this study are provided as Additional files.
Authors' contributions
HT designed the work. HT and YGB. conducted the fieldwork. HT performed the molecular experiments and analyzed the data. HT wrote the paper with YGB. Both authors read and approved the final manuscript.
Ethics approval and consent to participate
Not applicable.
Consent for publication
Not applicable.
Competing interests
The authors declare that they have no competing interests.
Publisher's Note
Springer Nature remains neutral with regard to jurisdictional claims in published maps and institutional affiliations.
Open AccessThis article is distributed under the terms of the Creative Commons Attribution 4.0 International License (http://creativecommons.org/licenses/by/4.0/), which permits unrestricted use, distribution, and reproduction in any medium, provided you give appropriate credit to the original author(s) and the source, provide a link to the Creative Commons license, and indicate if changes were made. The Creative Commons Public Domain Dedication waiver (http://creativecommons.org/publicdomain/zero/1.0/) applies to the data made available in this article, unless otherwise stated.
Authors' Affiliations
(1)
Center for Ecological Research, Kyoto University, Otsu, Japan
(2)
Precursory Research for Embryonic Science and Technology (PRESTO), Japan Science and Technology Agency, Kawaguchi, Japan
(3)
Institute for Agro-Environmental Sciences, NARO, Tsukuba, Japan